"St Paul Outside the Walls: The Fourth of the Seven Station Churches of Rome"
Past Live Lecture March 20th with Livia Galante

Come and Discover:
_________________
Just steps outside the walls that once protected Rome from intruders lies a beautiful Basilica: it is dedicated to one of the most important men of the early church, the Apostle of the Gentiles Saint Paul, built on the spot where the pious Christian lady, Lucina, buried him.
When Constantine legalized Christianity, he promoted the building of the first basilicas above the venerated tombs of the Apostles as well as the cathedral of Rome.
But, the first church built by Constantine over the tomb of Paul, faced in the opposite direction of the actual one and it was considerably smaller: today the front of the atrium is facing West, towards the Tiber River but, originally, it would have been the apse of the church, right where the tomb of Paul was, and the facade of the Church faced onto the Via Ostiense.
Soon after the consecration it was quite evident that the church wasn't big enough to accommodate the needs of the pilgrims and the desire of all these people to come and pray over the tomb of the Doctor of the Gentiles.
A new huge basilica was rebuilt over the old one but it was destroyed by a disastrous fire in 1823.
If you have any problems or questions don't hesitate to contact us at: [email protected]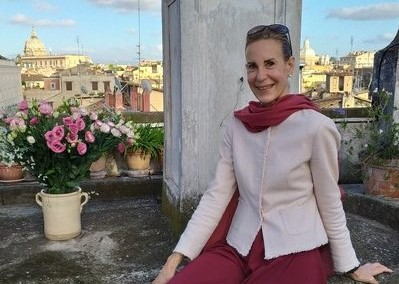 Livia Galante

is known around town as the "Queen of Ostia" having bowled over princes, prelates, politicians and people with her love and knowledge of the ancient site. Livia has her Doctorate in archeology from La Sapienza and is exceptional at making the ancient stones come to life and recount the stories of the ancients who tread on them, the technique of the engineers who laid them and the world that circulated around them. She describes herself as, "Italian by birth, Archaeologist by education, and Tour Guide by a passion to share beauty"!

Check your inbox to confirm your subscription