"Livia Drusilla and the Remarakable Power of Elite Women in Imperial Rome"
Past Web Lecture April 28th with Livia Galante
Come and Discover:
_________________
Livia Drusilla (58 BCE - 29 CE) was the third wife of emperor Augustus of Rome, mother of emperor Tiberius, and grandmother of emperor Claudius.
She was one of the great women in history who achieved prominence living in the shadow of a strong leader, serving silently as his advisor and confidant.
Supportive of her husband's reform policies, as well as turning a blind eye to his infidelities, she served the empire as a symbol of the loyal Roman wife, yet behind the scenes at the imperial court, she spent much of her adult life ensuring her son's future as heir to Augustus's throne whether he wanted it or not.
The image of Livia as a hearth less serial killer was possibly common at the time because of the Roman idea of the evil step-mother figure. In reality, despite her ambitions for Tiberius and the odd coincidental deaths of Augustus' heirs, there's no proof to support the murders. She was brilliant, loved beauty and nature and probably was judged poorly by jealous men of the establishment.
The lecture has been recorded for you!
If you have any problems or questions don't hesitate to contact us at: [email protected]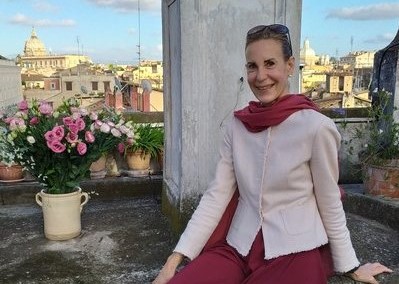 is known around town as the "Queen of Ostia" having bowled over princes, prelates, politicians and people with her love and knowledge of the ancient site. Livia has her Doctorate in archeology from La Sapienza and is exceptional at making the ancient stones come to life and recount the stories of the ancients who tread on them, the technique of the engineers who laid them and the world that circulated around them. She describes herself as, "Italian by birth, Archaeologist by education, and Tour Guide by a passion to share beauty"!
Check your inbox to confirm your subscription