The Tiber River - Lesson 3
In this course you will:
_________________
Did you know that in ancient times historians believed that the Tiber island was made to resemble a warship floating in the middle of Rome? Listen to art historian Ludovica Schmidt as she explains what this isle on the Tiber River symbolized for the Roman empire.
Once the home of the temple dedicated to the Greek god of medicine, Aesculapius, the Tiber island has long been associated with healing, wellness and the interpretation of dreams.
The Tiber island's history of medicine is still preserved today in its two hospitals. The one of them was created by the Jewish community that has for centuries lived near the island and the second is a Catholic hospital founded by a saint.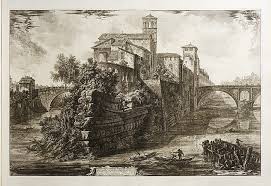 Ludovica  was born in Rome and fell in love with her native town in small steps. That is why she loves walking around  in small steps and focus also on minor aspects of it such as inscriptions, sacred images, fountains... What usually happens is that a small or less known aspect of Rome pushes her literally to start a detective search because what she really likes, in fact, is studying. Curiosity is the fuel that fed her path of education: she has a degree from the University of Rome La Sapienza in History of Christianism and a Diploma in Religious Sciences from the Pontifical Gregorian University, while she increased her knowledge in History of Art to share her enthusiasm while leading tours as  licensed guide of Rome and the Vatican. She has another passion, though, and that is  music: she passed her piano diploma in 1992 and spent several years teaching music. That is why she is particularly attracted by the sound of the Roman waters, the many fountains, the river Tiber and she invites you to follow her if you want to take a tour off the beaten paths, walking in the Roman streets as well as entering in some of the several churches and basilicas of Rome, incredibly beautiful and rich in history. Roma, non basta una vita! Rome, a lifetime is not enough!